East Midlands police forces merge road accident units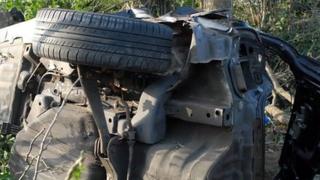 Three East Midlands police forces have merged their serious road accident investigation units.
Derbyshire, Leicestershire and Nottinghamshire are forming a group to be called East Midlands Operations.
They will concentrate on investigating those collisions which result in serious injury or death.
Senior officers said the merger was not about saving money but would provide a more efficient service and make the most of expertise across the region.
The three force areas have a total of 9,000 miles of road, including 70 miles of the M1.
'Best service' pledge
Assistant Chief Constable Steph Morgan, of Leicestershire Police, who is overseeing the project, said they will not be reducing the number of investigators.
"We have not cut down on resources of this very important area of work. It does involve death and serious injury and therefore it is absolutely crucial that we give the best service we can."
The three forces already work together on major crime investigations, terrorism intelligence as well as in the areas of training and human resources.
ACC Morgan added that the collaboration would make the most of expertise the forces have in the field of collision investigation and vehicle examination, while also increasing resources available to the three force areas.
There were 96 deaths on the roads in 2012. Of these, 38 were in Leicestershire and Rutland, 33 in Nottinghamshire and 25 in Derbyshire.