North East reaction to death of Margaret Thatcher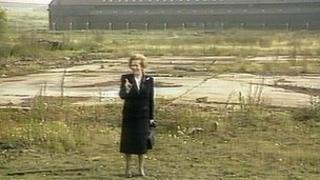 There has been mixed reaction to the death of Baroness Thatcher in the north-east of England.
The man who was with the former prime minister during her famed "walk in the wilderness" on Teesside in 1987, described her as "great and sincere".
But former miners' leaders accused her of "ripping the heart" out of scores of communities.
Baroness Thatcher died "peacefully" aged 87 after suffering a stroke while staying at the Ritz hotel in London.
Sir Ron Norman met the former prime minister several times when she established the Teesside Development Corporation in 1987.
As chairman, he was with her on a visit to Stockton-on-Tees in September 1987, where she posed for pictures on derelict land awaiting development. It is now the site of homes, businesses and a Durham University campus.
Handwritten letter
Sir Ron said: "There's great sadness today with the announcement of her death.
"I found her a very sincere and pleasant person.
"Putting politics to one side, I remember we entertained her for lunch during one of her visits to Teesside and two days later I got a handwritten letter thanking me. I still have it today and treasure it.
"She put a lot of money into the North East.
"She understood about the region's industrial decline and with that money we redeveloped Hartlepool and Stockton. These places would be very different today without that money.
"People will have their own political views, but I just remember her as a great person."
North East Conservative MEP and Leader of the European Conservatives and Reformists group in the European Parliament, Martin Callanan, said: "I joined the Conservative Party because of Margaret Thatcher and her inspiration.
"She was was the greatest world leader of our age. We deeply feel her loss, but we also celebrate the extraordinary legacy she has left Britain, Europe and the World.
"In these difficult times we can all learn a huge amount from Margaret Thatcher's political life. We could use a true 'Iron Lady' in Europe today."
Outgoing South Shields Labour MP David Miliband said: "Margaret Thatcher left a lasting mark on Britain.
"She also contributed to seismic global changes in the last decade of the Cold War. She proved that ideas and politics matter. She inspired me to join the Labour Party and many to join the Conservative Party.
"I wish her family the best."
'Legacy of deprivation'
But fellow Labour MP for Wansbeck in Northumberland, Ian Lavery, said: "It's a sad occasion when anyone dies. But I am not shedding any tears and nor will a lot of people in this region and in many former mining communities throughout the country."
The former president of the National Union of Mineworkers added: "Coalmining communities had the hearts ripped out of them and still have the scars in terms of a lack of economic regeneration."
Stephen Foster, secretary of the workingmen's club Easington, County Durham, which lost its pit in 1993, said: "I don't want to speak ill of the dead, but what Margaret Thatcher did to the people of Easington stands as fact and that can't be changed.
"Her legacy of deprivation for areas like this will continue long after her death.
"It's sad if people do celebrate her death, but I can sympathise with how some people in his part of the world think about and remember her."