PC Ian Dibell: Coroner in medal call for shot officer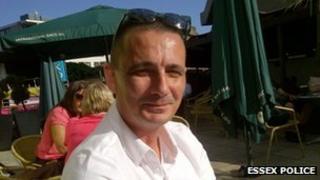 A policeman fatally shot as he tried to wrestle a weapon from a gunman should be awarded a medal, a coroner has said.
Off-duty PC Ian Dibell, 41, a father of two, was "unlawfully killed" near his home in Clacton-on-Sea last July.
An inquest in Chelmsford heard he was shot as he tried to stop Peter Reeve, 64, firing a revolver at two members of the public.
Mr Reeve told his sister she would not see him again before killing himself the next day at a Writtle churchyard.
Coroner Caroline Beasley-Murray said PC Dibell should be awarded a medal for "gallantry" for his actions.
Ballistics expert Dr Philip Alexander told the hearing the gun used to kill the officer was a World War I revolver.
PC Dibell had come to the aid of Trevor Marshall and his girlfriend Katarzyna Karolak.
Mr Reeve, the couple's neighbour, was shooting at them in the street, the inquest heard.
Shot through palm
Mr Reeve then got in his blue Toyota car and chased after them, firing shots from the window.
PC Dibell approached Mr Reeve's car window and tried to grab the gun's muzzle.
But the weapon went off, firing a round through the palm of PC Dibell's hand and into his chest.
After PC Dibell was shot, a large police manhunt was mounted to search for Mr Reeve.
His body was found the following day. He had a single gunshot wound through the forehead.
The inquest heard Mr Reeve, a former mechanic, was diagnosed with paranoia and psychosis in 2001.
He had become obsessed with the idea that his neighbours were dealing drugs and printing money, the hearing was told.
After killing PC Dibell, who died of a wound to his aorta and a collapsed lung, Mr Reeve got on a train to Chelmsford.
He went to see his sister Janet Hynes in the town and told her: "You won't see me again."
Verdicts that PC Dibell was unlawfully killed and Mr Reeve killed himself were recorded.
'Never be forgotten'
After the hearing, PC Dibell's family released a statement saying he had "acted selflessly and heroically" and paid the "ultimate price".
His partner Louise Lilley said the inquest had provided "some much needed closure".
Chief Constable Jim Barker-McCardle said: "The incident in Clacton last July is a reminder to us all that it is not the uniform that makes a police officer, it is the instinctive sense to do the right thing regardless of the circumstances you are faced with.
"We remain deeply proud of Ian and the sacrifice he made for the safety of others.
"He had an incredible devotion to his community and Essex Police and his actions will never be forgotten."