Measles cases in North East tops 200
6 April 2013

From the section

England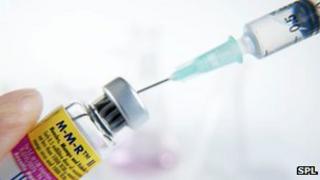 The number of confirmed cases of measles across the north-east of England has reached 200.
The Health Protection Agency (HPA) has already declared the outbreak as one of the worst in recent years.
Since September there have been 200 confirmed and 176 suspected cases, compared to just 18 confirmed in 2011.
The agency said 39% of all cases involved young people aged between 10 and 19 in the Stockton, Darlington and Middlesbrough areas.
Over the past week 19 new cases have been confirmed and a further 14 suspected cases reported.
In Wales, the outbreak has affected nearly 600 people so far in the south, mid and west of the country, where people have been queuing for free MMR vaccinations.
Highly infectious
Julia Waller, immunisation manager for the HPA in the North East, said:"Measles is highly infectious and unvaccinated children and adults who haven't had it before are at risk when it is circulating, as it is now in this region.
"There is no treatment for measles, but it can be prevented by the MMR vaccine and two doses are required to ensure the best protection.
"If anyone is unsure about their immunisation status they should check with their GP.
"It's always possible to catch-up as the vaccine can be given at any age."
The most common symptoms are fever, cough, sore eyes and a rash that develops three or four days after the onset of illness, starting with the face and head and spreading down the body.
Those who develop symptoms are advised to stay away from nursery, school or work for at least four days.