Selfridges raw milk case dropped by Food Standards Agency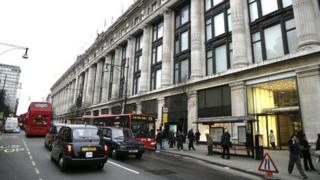 Legal proceedings against Selfridges for selling raw milk in its London store have been discontinued.
The Food Standards Agency (FSA) announced its intention to prosecute Selfridges Retail Ltd and farmer Stephen Hook for allegedly breaching food hygiene regulations in January.
The case against Selfridges was discontinued last week.
Mr Hook, of Longleys Farm in Hailsham, Sussex, is due at Westminster Magistrates' Court on 24 April.
The FSA said vending machines dispensing unpasteurised milk were installed in the London store in 2011.
In a statement, the regulator said: "Proceedings have been discontinued against Selfridges after the FSA received assurances from them that, pending the outcome of a detailed FSA review, raw cows' drinking milk would no longer be placed on sale in its premises.
"The case against Mr Hook is proceeding separately, we cannot discuss any further details at this stage."
A spokeswoman from Selfridges said: "Selfridges is pleased that the FSA has decided not to proceed with the prosecution against us.
"We note that the FSA is currently undertaking a review of the current controls governing the sale and marketing of raw drinking milk and we look forward to the publication of their report with interest. "