Tributes paid to Austria ski trip death teacher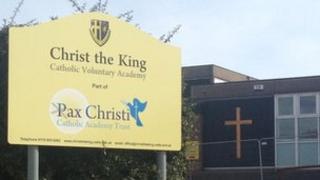 Tributes have been paid to a Nottingham teacher who died on a school trip to an Austrian ski resort.
Jonathan Taylor, who taught at Christ the King Catholic Voluntary Academy, fell down a bank and hit his head in Matrei, in the early hours of Sunday.
A neighbour said he was a "lovely man", while Roman Catholic Bishop of Nottingham, the Rt Rev Malcolm McMahon, said it was a "tragic loss".
Mr Taylor was on a trip with about 40 pupils, aged 14 and 15.
The 44-year-old was walking from a pub with staff colleagues at about 03:00 local time when he tripped and hit his head, dying instantly.
'Difficult time'
Neighbour Bill Bailey said: "I'm afraid it was such a shock. We are both upset about it and we did not sleep last night for a long time.
"We're just very, very sorry as he was a lovely young man."
Bishop McMahon said: "I was saddened to learn of the death in Austria of Jonathan Taylor, an IT teacher at Christ the King Catholic Voluntary Academy in Arnold.
"My thoughts and prayers are with his wife and family as they begin to come to terms with their tragic loss, the pupils whom he was accompanying on their skiing holiday and the entire community of Christ the King School at this difficult time.
"Jonathan will be remembered with affection by many people."
Trip home
But while acknowledging the tragedy, James Cherretty, a parent of one of the children on the trip, said he was concerned Mr Taylor had been out so late.
"We understand that people go for a drink after work, we totally understand that.
"But until three in the morning while you are looking after other people's children? I don't think that is on."
School principal Carlo Cuomo has flown to Austria to escort the group home. They are expected to arrive on Monday evening.
The Austrian authorities have ordered a post-mortem examination to be carried out to determine the cause of death.