Dangerous dog measures may cause 'more problems than they solve'
31 March 2013

From the section

England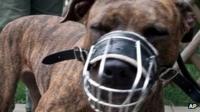 Planned new measures to clamp down on dangerous dogs could "cause more problems than they solve", vets and animal charities have told ministers.
Calls for tough action have been fuelled by the death of Jade Anderson, 14, who was attacked by dogs at a house in Greater Manchester on Tuesday.
Six leading organisations said they were "extremely concerned" about a Home Office move to put dog measures in anti-social behaviour legislation.
They backed calls for a single Bill.
The NHS spends more than £3m annually treating dog attack injuries.
A joint letter was sent from the British Veterinary Association, the Blue Cross, Battersea Dogs and Cats Home, the Dogs Trust, the Kennel Club and the RSPCA before Jade's death.
In it, they backed the Environment, Food and Rural Affairs Committee's call for the existing legislation to be brought together and improved in a dedicated Bill.
'Irresponsible owners'
They told Home Office Minister Jeremy Browne they were "very concerned" at the proposed replacement of Dog Control Orders, with less specific anti-social behaviour measures.
Allowing untrained council workers or police community support officers to issue orders "could lead to compromises in animal welfare or even make dog behaviour worse due to lack of understanding in these areas", the letter added.
It could also "lull communities into a false sense of security around dogs and not actually address the real problem - irresponsible owners. This could lead to greater division within communities and potentially marginalise all dog owners - even those trying to be responsible."
They told Mr Browne: "We cannot see how the new measures will provide for effective early intervention and prevention.
"It is unclear, for example, how these proposals will effectively tackle irresponsible dog ownership, how enforcers will be able to prioritise dog control over other serious anti-social behaviour and how they will identify the most appropriate power in each case."
Approach 'too simplistic'
The Environment, Food and Rural Affairs Committee last month said the Government had "comprehensively failed" to tackle irresponsible dog ownership.
It said the Home Office approach was "too simplistic" and separate proposals for compulsory dog microchipping and owners to be opened to prosecution for attacks on private property were "belated" and "woefully inadequate".
A Home Office spokeswoman said: "The draft Anti-Social Behaviour Bill is about giving victims, who often feel powerless, a voice.
"We want to ensure the police, councils and housing providers have more effective powers to deal with anti-social behaviour."
"The new streamlined powers will be faster, more flexible and crucially will allow professionals to stop anti-social behaviour and seek to change behaviour."