Cold War study looks at communities in Norfolk and Suffolk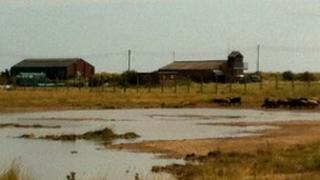 The impact of the Cold War on the lives of ordinary people in Norfolk and Suffolk is to be researched by the University of East Anglia.
The project involves Cold War sites such as the former RAF Barnham near Thetford, which was one of the UK's first nuclear bomb storage facilities.
The project will focus on those who went on with their everyday lives in the shadow of Cold War defences.
It is being funded by £52,000 from the Art and Humanities Research Council.
The period being studied runs from the early 1950s to the collapse of the Soviet Union in the early 1990s.
Ballistic missiles
The year-long project will also look at the history of civil defence preparations in Norwich, and the involvement of volunteers in the Civil Defence Corps.
There was a network of Thor ballistic missile sites, such as the former RAF North Pickenham, which were on standby in the Cuban missile crisis and where significant CND demonstrations occurred in the late 1950s.
Dr Richard Maguire, who is leading the project, said much of the historical research to date had concentrated on political policy making or military strategy, but he wanted to explore the Cold War at a community level.
He said: "I was talking to somebody who used to cycle as a boy past a ballistic missile launch site when he went to school.
"He said some days the ballistic missiles would be up in the field. I asked him what he thought. 'I used to think, oh, it's a nuclear missile', he told me.
"That's the sort of interesting response I want to see recorded."