Rider running for Kent, Surrey and Sussex Air Ambulance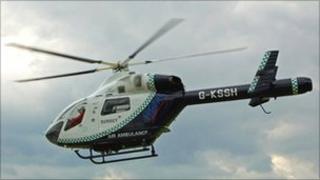 A rider who was left unconscious after being kicked by her horse is to raise money for the Kent, Surrey and Sussex Air Ambulance.
Sarah Hayter from Broad Oak in East Sussex was competing in the Munstead Horse Trials in Surrey five years ago when she fell from her horse.
The 36-year-old mother was given emergency treatment by the air ambulance crew and flown to hospital.
She is to run the 62-mile (100km) London to Brighton Challenge in May.
The accident in May 2008 left Ms Hayter unconscious and she was flown to a specialist neurological centre in London.
She has since made a full recovery.
""It's such a crazy thing for me to do because I'm not particularly sporty and I only started running last year when I did a couple of mud runs and a few 10ks," she said.
"For me, it's going to be an achievement verging on the side of ridiculous. I would like to run it but if I run, walk or even crawl it, it's still an achievement."