Midlands Air Ambulance to extend coverage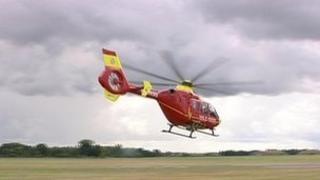 The Midlands Air Ambulance is to extend its operating hours, to make more aircraft available throughout the day.
Previously, shift patterns have meant the region is covered by a single helicopter at certain times.
The charity said it was investing £50,000 to ensure all three aircraft were operational throughout daylight hours from 1 April.
It said more lives were expected to be saved as a result of the funding, which has come entirely from donations.
The Midlands Air Ambulance serves Gloucestershire, Shropshire, Herefordshire, Staffordshire, Worcestershire and the West Midlands.
It operates from bases in Tatenhill, Cosford, and Strensham Services.
The charity can only currently fly during daylight hours, but said it was pressing ahead with plans to buy a night-capable helicopter at a cost of £4.5m.