Oxford exploitation trial: Accused 'victim of mistaken identity'
26 March 2013

From the section

England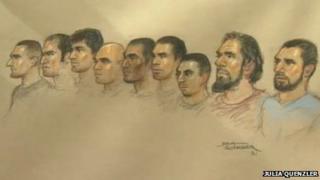 A man accused of being part of a child sex ring in Oxford has told a court he was the victim of mistaken identity.
Kamar Jamil, 27, said he did not know any of the six girls, aged 11 to 15, who have given evidence against him and eight other men at the Old Bailey.
He denied sexual offences against two of the girls named in charges against him.
Mr Jamil and eight others are accused of grooming and exploiting girls for sex over a period of eight years.
He said identification of him as being one of the offenders was mistaken.
The court heard Mr Jamil grew up in Oxford.
His family lived on the same street as fellow defendants Akhtar and Anjum Dogar.
When Prosecutor Noel Lucas QC read through the indictment Mr Jamil answered "it never happened" to each charge.
Married with children
Asked if he had been involved in sexual activity with the girls, or knew of sex parties, he replied: "No."
Mr Jamil, who is married with three children, studied computing at college before working as a car salesman.
He told the court he was working as a supermarket security guard when he was arrested last year.
He said he also helped out at a cousin's business ferrying children to school.
Mr Jamil, who said he had been known as K-dog since the age of 17, was the first of the defendants to give evidence in the trial.
Mr Lucas said: "I'm going to suggest in 2004, 2005, 2006 and 2007 the Dogars would hang around Cowley Road and Manzil Way chatting up underage school girls, that is what they did, isn't it?"
Mr Jamil replied: "I cannot comment on that."
Mr Lucas said: "You can, because you were with them."
"I'm saying that is not me," Mr Jamil replied.
He admitted that he had relationships with a couple of Asian girls that were not sexual back in 2004-2005.
Mr Lucas asked: "Is that why you were looking out for girls who were misbehaving, behaving badly and were easy prey on the Cowley Road?"
Mr Jamil replied: "No.
"I ain't done nothing like this. It's mistaken identity or something.
"I'm not sure where these girls have got this from."
The accused men, from Oxford and Berkshire, deny 47 offences including, rape, trafficking and organising prostitution of under-age girls from 2004 to 2012.
They had originally faced 51 offences but some charges were amended, added and dismissed under the direction of the judge on Monday.
The trial is expected to last until May.
The defendants are:
Kamar Jamil, 27, formerly of Aldrich Road, Oxford
Akhtar Dogar, 32, of Tawney Street, Oxford; and his brother Anjum Dogar, 30, of Tawney Street, Oxford
Assad Hussain, 32, of Ashurst Way, Oxford
Mohammed Karrar, 38, of Kames Close, Oxford; and his brother Bassam Karrar, 33, of Hundred Acres Close, Oxford
Mohammed Hussain, 24, of Horspath Road, Oxford
Zeeshan Ahmed, 27, of Palmer Road, Oxford
Bilal Ahmed, 26, of Suffolk Road, Maidenhead