East Midlands Airport: Apology over baggage left in snow
25 March 2013

From the section

England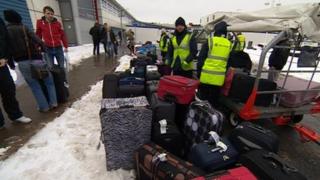 East Midlands Airport (EMA) has said there is no excuse for luggage being left in the snow following a flight cancellation at the weekend.
Servisair, who handle luggage, apologised but said it had no alternative but to return bags and cases as passengers left the terminal.
Up to 12cm (5in) of snow fell at the site causing the airport to close, with Ryanair forced to cancel 14 flights.
EMA and Ryanair have both apologised for the disruption.
Passengers on one cancelled Ryanair flight were told their baggage would be left outside the terminus.
John Greenway, from EMA, said: "We'll be picking that up with the handling agent and saying 'in future let's not be putting cases in the snow'."
Colin Higgins, spokesman for Servisair, said: "It was a matter of circumstance.
"It was not ideal but because of the weather conditions there was no alternative but to repatriate baggage to passengers as they left the terminal. Baggage was secure at all times.
"We apologise for any inconvenience caused."
'Hard job'
Mr Greenway said he was not surprised people were upset about the cancellations and apologised on behalf of EMA.
However, he defended the measures the airport took during the disruption.
He said: "You can't take a risk with safety, particularly with aviation.
"We don't want people delayed, waiting in queues. We want people on their aircraft but when weather hits like that it will have an impact on the whole network.
"Clearing the airfield is a hard job, our snow clearing teams gave everything."
Rob Potts and his family, from Leeds, were due to travel with Ryanair to Gran Canaria, but were told their flight had been cancelled.
Mr Potts said: "There are people here crying - people here who have saved for their holidays and they are being sent off with nothing to look forward to."
Ryanair apologised to all passengers affected by cancellations and delays.