Matthew Boulton memorial for Westminster Abbey
25 March 2013

From the section

England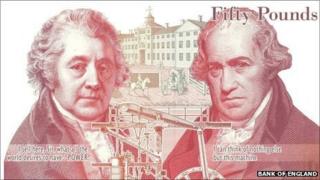 A Birmingham-born industrialist is to be honoured with a memorial in Westminster Abbey.
Matthew Boulton worked alongside James Watt to bring the steam engine into the textile manufacturing process.
The Birmingham Museums Trust will work on the design of the new memorial which is expected to be unveiled next year.
His portrait and an image of his Soho Manufactory, built near Birmingham in the 1760s, already feature on the £50 note.
Dr John Hall, the Dean of Westminster Abbey, said: "We are delighted that Matthew Boulton's major contribution to British and world history will finally be recognised with this new memorial."
The 18th Century entrepreneur was also a silversmith, buckle-maker and a Fellow of the Royal Society.
Former Astronomer Royal, Sir Arnold Wolfendale who campaigned for the memorial, said Boulton "has lessons for us today".
"It is not only scientists and engineers who are important in introducing new technology, but men such as Boulton too," he added.