Ipswich Hospital: Plea to retain emergency stroke services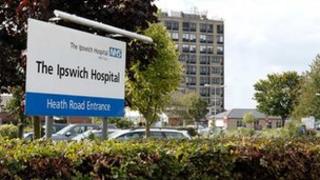 The retention of emergency stroke services at Ipswich Hospital is "vital", according to a senior health service source.
Provision of hyper acute stroke units (HASUs) is being reviewed by the NHS.
Options under consideration include Ipswich, West Suffolk and Colchester hospitals losing their emergency stroke care, while keeping rehabilitation services.
NHS Midlands & East said no decisions have yet been made.
The NHS is considering three options as part of an England-wide Stroke Review - all of which would see an emergency HASU at Addenbrooke's in Cambridge.
One would be having an HASU at Colchester Hospital, but only providing rehabilitation treatment at Ipswich and West Suffolk.
Journey times
The second would be having an Ipswich HASU, but not Colchester or West Suffolk.
The third would be providing HASU services at Ipswich and Colchester, but not West Suffolk.
The senior health service source in Suffolk said: "It's vital Ipswich keeps its HASU open, otherwise patients in west and coastal Suffolk would face longer journey times, which may delay 'clot-busting' treatments which are needed in 10% of cases.
"We don't think Colchester could manage the increase in numbers from Ipswich and West Suffolk hospitals, which jointly deal with 2,000 patients a year if you include patients who have stroke symptoms which don't actually turn out to be strokes.
"We want quality care for our patients, seven days a week and are submitting data to the national stroke audit project to demonstrate the high quality of stroke care across the board in Ipswich."
An NHS Midlands & East spokesperson said: "The consultation process is ongoing and no decisions have yet been made."
A spokesperson for NHS Suffolk, which will be replaced by two clinical commissioning groups in April, said: "Clinicians want to see improvements in stroke services and we will consider all evidence and views available on how to do this.
"This obviously includes speaking to local people and no changes will be made without involvement of patients and the public"