South Western Ambulance Service rise in 999 calls 'caused by cold'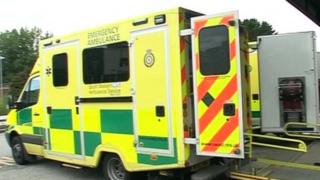 Cold weather is thought to have been responsible for a rise in ambulance 999 calls in Devon and Cornwall.
South Western Ambulance Service said over two weeks in March there was a 16% rise on the same period last year.
Earlier this month Plymouth's Derriford Hospital was on "black" alert, meaning it was under extreme pressure and the Royal Cornwall Hospital's major incident plan was put into action.
The union Unison said ambulance crews had been "run ragged".
The cold weather is thought to have been responsible for an increase in the number of chest infections requiring hospital treatment and there have also been several outbreaks of the winter vomiting bug norovirus.
The ambulance trust has urged people to only call 999 in "real emergencies".
Unprecedented demand
Crews dealt with 9,138 emergency incidents between 4 and 17 March 2012 compared to 10,143 this year - a similar level of demand to New Year.
South Western Ambulance Service Foundation Trust (SWASFT) said New Year is traditionally the busiest time of year.
John Oliver from the trust said the unprecedented demand had required a "huge effort by everyone in the organisation".
"Many crews are working additional shifts, coming in on overtime or giving up annual leave," he told BBC News.
Unions are concerned that the phasing in of a new free NHS 111 number for patients with urgent but not life-threatening symptoms could also put ambulance crews under more pressure.
Although it is already being used by the trust in other parts of the south west area, it has been delayed in Devon and Cornwall and will not now be introduced until May and June respectively.
'More vehicles'
Unison said a combination of different factors, including increased demand and reduced government funding, had stretched resources to "breaking point".
"It needs to be addressed...we do need more funding so we can get more vehicles on to the roads," spokesman Simon Moss said.
"Our members are being run ragged at the moment."
But Mr Oliver said, despite budget savings the trust had made, paramedic staffing levels had been maintained.
"The health care service - like everyone else across the public sector - has got its contribution to make to reducing the national deficit," he said.