Climate change levy exemption welcomed by ceramics firms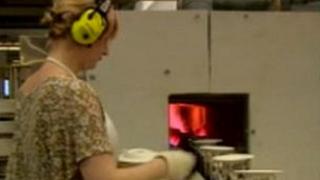 An exemption from a tax designed to cut carbon emissions is an "important signal" according to the body representing the pottery industry.
Chancellor George Osborne announced in the budget that the industry would be exempt from the climate change levy.
The British Ceramic Confederation said it would help with the industry's international competitiveness.
Tristram Hunt, MP for Stoke-on-Trent Central, said it was "another step on the path to a Potteries' revival".
In his budget speech Mr Osborne said he had been persuaded by the way the Labour MP had argued "passionately and in a non-partisan way" about the damage the tax was doing to "his city's famous ceramics industry".
'Practical details'
Mr Hunt said: "I am glad George Osborne has listened to the lobbying of Stoke MPs about the impact of energy taxes."
Chief executive of the British Ceramic Confederation, Laura Cohen, said the announcement showed the government is "taking the threat to international competitiveness seriously".
"We look forward to working through the practical details while continuing to meet our challenging climate change agreement targets," she added.
The trade body represents more than 100 firms including Royal Stafford, Royal Derby and the Portmeirion Group, which owns the Royal Worcester and Spode brands.
The exemption, which will be introduced in 1 April 2014, will also apply to the mineral and metallurgical industries.
The climate change levy was introduced in April 2001.
Any money raised under the levy is given back through schemes to subsidise energy-saving investments and through reductions in national insurance.