'Show feeling' on Epsom Hospital, urges Surrey MP
18 March 2013

From the section

England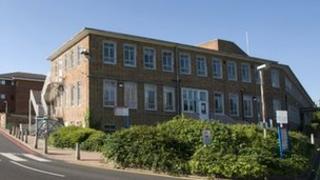 People have been urged to show their strength of feeling about the future of Epsom Hospital which is being reviewed.
Chris Grayling MP said a decision about the hospital as part of the Better Services Better Value (BSBV) review covering Surrey and London had been delayed from February to early summer.
And he said next steps depended heavily on what GPs decided to do.
But he said a consultation event would be held on Wednesday and he urged local people to make their views clear.
"If a good number of people can drop in, it will make the point again about the strength of feeling locally," the MP said.
'Almost certain' downgrade
Mr Grayling, Conservative MP for Epsom and Ewell, said responsibility for most NHS services passed to GPs from 1 April.
"I can't guarantee that the doctors will decide that there should be no changes at Epsom, but it does now look as if we have a better chance of avoiding the scale of change that looked on the cards a couple of months ago," he added.
He called for the decision about Epsom Hospital to be made in Surrey, and said Surrey councils and health organisations had reached a degree of consensus that they needed to find a better approach than the "almost certain" downgrade of services at Epsom as part of BSBV.
The BSBV review originally covered four London NHS sites but Epsom was included as a fifth last November.
Proposals are to have three hospitals with A&E and maternity units across five sites - Epsom, St Helier, Kingston, Croydon and St George's - with urgent care, day surgery and outpatient services at all five.
When the plans were revealed, Michael Bailey, BSBV medical director, said they were clinical recommendations only and, after formal recommendations were made, the public would be consulted on whatever was proposed.
The BSBV drop-in for Surrey residents will be held on Wednesday in Ewell.
People will be able to speak to doctors and register interest to take part in formal consultation to be held later this year.