Escaped prisoner John Anslow arrested in Cyprus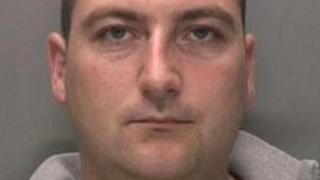 An inmate who escaped from a prison van while on his way to court in the UK has been arrested in Cyprus.
John Anslow, 32, from Tipton in the West Midlands, has been at large since he escaped near HMP Hewell in Worcestershire in January 2012.
He is charged with murdering Richard Deakin in Staffordshire in 2010.
He was arrested in the Alancak area of northern Cyprus on Wednesday and deported by the Turkish Cypriot authorities.
Staffordshire Police said Mr Anslow was arrested at Heathrow Airport earlier on his return to the UK.
He has been transferred to a high-security prison and will appear via video link at Stafford Crown Court on Monday for failing to appear at court last January.
Nine men appeared at Birmingham Crown Court on Friday in connection with his escape.