Leeds United enter Cromer Town monarch legal row
15 March 2013

From the section

England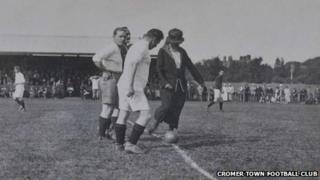 Leeds United has offered legal help to an amateur football club that faces losing its ground in a bizarre legal dispute.
Norfolk club Cromer Town was bequeathed its Cabbell Park home in 1922 by local landowner Evelyn Bond-Cabbell.
But for reasons that remain a mystery, an unusual clause was inserted in her will.
It stated that the club's lease would expire 21 years after the death of King Edward VII's final descendant.
The clause said the 21-year limit should run from the day of the death of the last descendent, who was "in being" at the time it was signed in 1922.
But doubts over his identity have left the Anglian Combination Premier Division club facing an uncertain future.
It had been thought King Edward VII's final descendant was his grandson, Norway's King Olav V, who died in 1991.
That would have meant the club, nicknamed "The Crabs", would have been homeless as of January 2012.
But further genealogy checks suggested Edward's last descendant was, in fact, George Lascelles, the Seventh Earl of Harewood.
He died in July 2011, which would extend the deadline to 2032.
The earl's widow, the Countess of Harewood, is Leeds United's patron and asked the Championship club to intervene.
'Free of charge'
Cromer Town chairman Paul Jarvis said: "She spoke to the chief executive of Leeds United about it and he emailed me.
"He offered Leeds United's solicitor to get in touch with us and they contacted me to see if they could help in any small way on a free-of-charge basis."
A Leeds United spokesman confirmed the club had offered legal assistance to the Norfolk side.
According to the will, the ground should be returned to the community 21 years after the descendant's death.
Mr Jarvis said he had been given legal advice that the countdown began with the death of the earl.
Discussions between Cromer Town and North Norfolk District Council (NNDC) have been continuing.
Legal process
An agreement to transfer the ground from the Cabbell Park trustees to NNDC was nearly reached last May, but has now reached stalemate.
Council leader Tom Fitzpatrick said: "We hope that the legal process will be concluded as soon as possible.
"After which the council will be able to take a longer-term view of the future of Cabbell Park in consultation with the residents of Cromer."
The terms of the original bequest state the land should remain as public open space.
Mr Jarvis said the club had spent more than £3,000 on legal fees so far and that a move could lead to its demise.
He said the council had suggested an alternative out-of-town location that was "not financially viable".