Thomas Neathway denies he is leaving Army over bullying
13 March 2013

From the section

England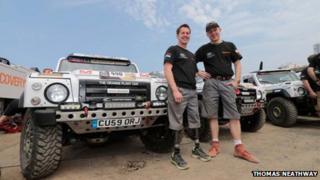 A Worcestershire paratrooper who lost both legs and an arm in Afghanistan has denied newspaper reports that is quitting the Army over bullying.
Cpl Thomas Neathway said he was leaving to pursue a career in motor sport.
He confirmed there was a continuing investigation into complaints he made about bullying, but said "the reason for me leaving the Army is not that".
In a statement the Army said Cpl Neathway's complaint was being "thoroughly investigated".
A spokesman said the Army has a "zero-tolerance approach" to all forms of bullying, discrimination and abuse.
Team management
Cpl Neathway, based at RAF Brize Norton in Oxfordshire, was injured when a booby trap bomb detonated in 2008.
In January he took part in the Dakar Rally in South America with the Race2Recovery team, which included other wounded soldiers.
"I'm taking up other opportunities that are out there that have come to me since I've come back [from the rally]," he said.
He hopes to move into team management or use his computing skills to work on rally car engines.
"Since getting injured there's only so much I can do within the Army.
"I had a decent job until my investigation went in - I was moved away from that job and I just wasn't enjoying it any more," he added.
Cpl Neathway said the Army had always been "very very good" to him.