Gucci store targeted in ram-raid in Sloane Street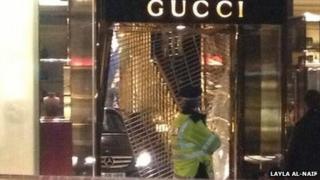 About 50 designer bags - some said to be worth as much as £40,000 - have been stolen in a smash and grab raid on a flagship designer store in London.
The Met said a black Mercedes, which is thought to have been stolen, reversed into the Gucci store in Sloane Street at about 21:50 GMT on Wednesday.
The suspects, said to be three, then stole handbags before fleeing in a blue Audi A4. No arrests have yet been made.
Security guards were in the shop at the time but were said to be unhurt.
The exclusive store, which Gucci describe on their website as a "flagship boutique", is said to be reviewing its security and there are calls for greater protection from the Metropolitan Police.
BBC journalist Nick Beake, who is at the scene, said sources have told him that CCTV shows the men, who were wearing balaclavas, scoop the bags up and sling them across their shoulders.