Amputee puts arm in freezer to ease 'phantom pain'
6 March 2013

From the section

England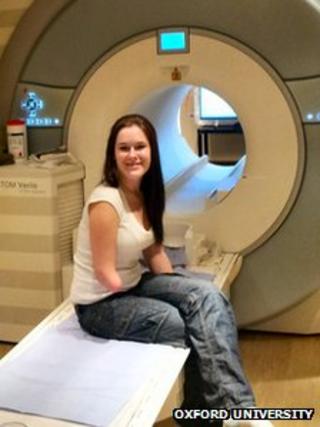 A study is examining why some amputees feel "phantom pain" after losing their limbs.
Kirsty Mason uses a freezer to ease pain in her fingers - despite the fact her arm was amputated four years ago.
She admits it "sounds silly", but she likes the cooling effect of the ice even though her hand is not there.
Miss Mason, from Bracknell, Berkshire, lost her arm in a rail accident but feels pain as if it is being injured.
An Oxford University study found the worst "phantom pain" sufferers are those with the strongest sense a missing limb is still present.
Miss Mason, 22, lost her right arm below the elbow when she fainted at a train station, fell on to the track and awoke to find a train wheel had crushed her arm.
She gets "constant niggling pain" and occasionally suffers an extreme burning sensation.
"The only thing I can do is stick my hand in a freezer," she said.
"I can feel my fist clenching, my fingernails digging in.
"I can see the hand isn't there but the sensation is so realistic."
Debilitating pain
Dr Tamar Makin, part of the Oxford research team, said: "Almost all people who have lost a limb have some sensation that it is still there, and it's thought that around 80% of amputees experience some level of pain associated with the missing limb.
"For some the pain is so great it is hugely debilitating."
She said the origin of such pain is not well understood, so current treatments tend to be limited to standard pain medication.
The study used MRI imaging to compare the brains of 18 amputees with those of 11 people born with one hand, as well as a control group of 22 people with both hands.
All were asked to attempt to move their fingers to see how the hand was represented in the brain.
"We were astonished to find that in amputees experiencing strong phantom pain, the brain's response was indistinguishable from that seen in people with intact limbs," Dr Makin said.
Researchers hope their findings will help the development of improved treatments.