Horden shootings: Police could have revoked gun licence
5 March 2013

From the section

England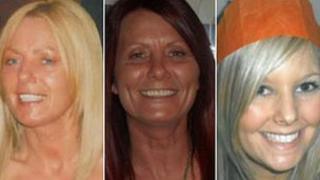 Police missed chances to take a gunman's licence away before he shot dead four people at a house in County Durham, an inquest heard.
Michael Atherton shot his partner Susan McGoldrick, her sister Alison Turnbull, Ms Turnbull's daughter Tanya, then himself on New Year's Day 2012.
The coroner heard Durham Police gave Mr Atherton a "final warning" after he had his guns confiscated in 2008.
Earlier, the hearing was told officers were aware of his violent past.
Retired Ch Supt Carole Thompson-Young, whose role included heading the force's firearms licensing unit, said he was known to have a history of violence towards Mrs McGoldrick.
'Legal precedent'
The inquest heard how Mr Atherton was arrested for affray at a local club in 2008 and how months later, armed police were called to his house when he threatened to "blow his head off".
His weapons were confiscated, but later returned after officers opted to give him a "final warning."
Ms Thompson-Young said legal advice indicated Atherton would win an appeal if his shotgun licence was revoked solely on the grounds of domestic violence, as he had never used weapons in an attack.
Ms Thompson-Young told the inquest in Crook, County Durham, about a similar case involving a different force, where the gun owner won an appeal against having his licence revoked.
She told the inquest: "The judge deemed that the person was entitled to have a gun because there had been no guns used in relation to the domestic violence.
"The force appealed against the outcome but the original appeal stood."
'Not trained'
She took that legal ruling to mean Mr Atherton's history of domestic violence was not an "automatic barrier" to him having a shotgun licence.
Ms Thompson-Young, who retired in 2010, said she received no formal training when she took on responsibility for the firearms licensing unit.
But national licensing expert Mark Groothuis, of Hampshire Police, appeared to disagree with that evidence when he told the inquest: "My Chief Constable has a very robust line on domestic violence.
"With four instances or where there has been a caution, I do not consider from my point of view it would have been a borderline case - it would have been a refusal."
Taxi driver Mr Atherton, who legally owned six weapons, including three shotguns, shot the three in the back at the house in Horden before taking his own life, after a row.
They had all been out drinking hours earlier, but tests showed this had not been to excess.
The inquest continues.