Driver scared of Dartford bridge calls 999
5 March 2013

From the section

England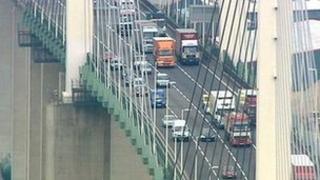 A driver at the Dartford Crossing called 999 because he was too scared to make the journey from Kent to Essex.
Police said the man suffers from gephyrophobia, an anxiety disorder brought about through a fear of crossing bridges.
Officers explained he would be passing through the tunnel, but he said he was still too scared to cross.
Patrol officers then drove his car through the tunnel with the man as a passenger.
The man, who did not know the area, had taken a wrong turn and dialled 999 when his satnav directed him on to the Dartford Crossing at 09:30 GMT on Monday.
Insp Paul Sellwood said: "Our role is maintaining order and safety on the roads, so if someone is concerned, trapped or scared, it is our job to attend and help and support from wherever we can.
"We always respond and we try to help to the best of our ability."