Thames Estuary airport: Row over Medway 'fighting fund'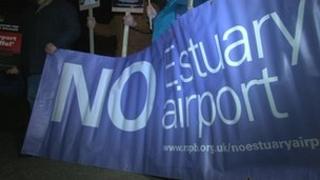 A row has broken out after Medway Council earmarked up to £35,000 to fight Thames Estuary airport plans.
Campaigners and opposing politicians have called for public money to be spent on a referendum to find out the level of support for a new airport.
Campaign group Drink said a referendum would allow "a proper debate" and Labour members said a poll would strengthen the case against an airport.
Deputy leader Alan Jarrett said most people supported the Tory-run council.
He also said a referendum would cost £250,000.
He said there were cheaper ways to run a poll, such as online voting, but the council did not want to disenfranchise anybody.
'Money well-spent'
"The assumption which we are correctly making is the vast majority of people are in favour of what we are doing," he said.
"In actual fact, spending up to £35,000 on an issue like this is money well spent and I think most people accept that."
Proposals for increased South East airport capacity have included expansion of Gatwick and Heathrow, more use of regional airports, and building new airports in the Thames Estuary and off the Kent coast.
Labour group leader Vince Maple said a referendum being held on Heathrow expansion in the London Borough of Richmond was costing about £60,000.
Mr Maple said a similar poll in Medway would enable its voice to be heard.
'Proper campaign'
He said: "I want to make sure we've got every opportunity for Medway's voice to be heard loud and clear, to say this is not good for UK Plc and not good for the environment and not good for Medway, and one way to do that is a referendum."
Clive Lawrence, of Demand Regeneration in North Kent (Drink), said: "This is democracy and this is an issue that is not going to go away.
"People in the area have got to understand what the facts are, not the emotions. Let's have a proper campaign, debate this passionately, then have some kind of referendum."
Richmond council confirmed its referendum was likely to be held on 16 May and the postal ballot cost was £67,000.