Yorkshire bouzouki theft 'devastates' Isle of Man musician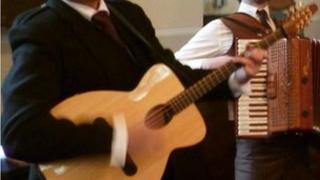 An Isle of Man musician has said he is "devastated" after instruments, including a £4,000 bouzouki, were stolen from his car in Yorkshire.
Tomas Callister was performing at a friend's wedding in Escrick near York when thieves took equipment worth around £10,000 on Saturday night.
Mr Callister, 20, who tours with his band Barrule, said he was "absolutely devastated."
He said: "I play in lots of places but this was a beautiful sleepy village."
'Can't be replaced'
As well as the instruments, he had two suitcases, his passport and even his asthma medication taken.
He added: "It was my birthday last week and they took the presents which were hidden from view. They even took my sandwich."
Mr Callister's band mate Adam Rhodes said: "We are supposed to be playing in Wales this weekend so Tomas picked up some of my equipment to help me out.
"My bouzouki is incredibly unique. It can't be replaced."
The bouzouki is a Greek musical instrument which is slightly smaller than a guitar and is similar to a mandolin.
Mr Callister added: "When you do play music, especially for a living, not only are the instruments your tools to make money but you feel like they are your children."