East of England Ambulance Service 'fails on response times'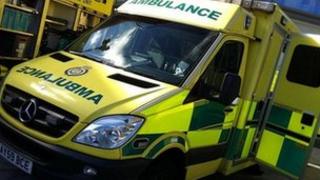 The East of England Ambulance Service (EEAS) has not met response time targets in parts of the region for the past year, according to a new report.
Failings concern "category A" patients in life-threatening situations.
The service in Suffolk, Norfolk and Cambridgeshire has not met the national target of responding to 95% of calls within 19 minutes since April.
Measures are under way to remedy performance with the recruitment of more staff and extra vehicles.
'New recruits'
An EEAS spokesman said: "While recent patient surveys shows the clinical care they receive is good, we recognise the need to improve performance against time targets and are implementing a number of measures.
"These include 200 new frontline recruits, 15 extra ambulances crewed by existing crews on overtime until we get our new staff on board and better working with hospitals to tackle handover delays."
The report shows that the service also failed in its target of going to 75% of calls within eight minutes.
However, in the Great Yarmouth and Waveney area of Norfolk and Suffolk, EEAS did meet its 75% response time from April to November.
North East Essex and Mid-Essex also consistently failed to meet response time targets.
The report, compiled by EEAS director of strategy and business development Adrian Matthews, said performance in January initially improved after the expected dip in the new year.
It then deteriorated due to bad weather, increased activity and high levels of demand, which were above average during January.
The report said performance levels were expected to improve when the weather improved and there was a reduction in sickness and an increase in staff morale.
It also said that although the number of complaints about the ambulance service remained high, particularly over response times, the number of written compliments the service received outnumbered complaints.