Thames Valley Police making progress on mystery bodies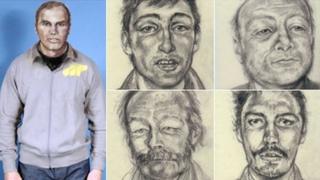 Investigations into eight unidentified bodies across the Thames Valley have generated inquiries across Europe, Canada and England.
Thames Valley Police's Operation Nightingale was launched in December into cases dating back to 1970.
In January, the force was contacted by a Canadian relative of a tailor whose distinctive Derbyshire-made jacket was found on a body in Berkshire in 1979.
Two of the other eight cases have led to appeals in Poland and Albania.
A number of calls have been received from Derbyshire in connection with the case of a man in his 60s, discovered in a disused shed in Donnington, near Newbury in March 1979.
He was wearing a single-breasted jacket from tailor JW Marples, which were principally sold to the farming community and possibly made in Chesterfield or Bakewell.
Thames Valley Police distributed around 200 flyers at the Bakewell cattle market and around the local community.
Det Con Alison Brown, from the force's major crime review team, also made an appeal on BBC Radio Derby for information leading to the man's identity.
Concealed inside lorry
Investigations into the death of a man on the northbound carriageway of the M40 in Oxfordshire in January 2000 are focusing on Oxford's Albanian community.
Police believe the man, aged between 17 and 30, may have been an illegal immigrant from Kosovo or Albania, who could have entered the country concealed inside a lorry.
Polish missing persons website Itaka, has been involved with investigations of another case near Eton in May 2004.
The body of a man, aged between 25 and 35, was found floating in the water of Jubilee River in Dorney, Buckinghamshire.
Police have requested Itaka to put the deceased's profile on their website and check their records for a possible identity.
Det Con Alison Brown said: "We would welcome any information regardless of how small or insignificant you think it may be to try and help identify these men."