Test finds any horse DNA without doubt, says lab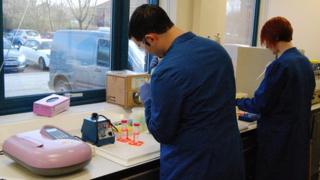 "It's a very specific test so if you just have a trace level of horse in beef it will be able to pull that out and identify it without any doubt."
The words of Paul Hancock, manager of a Worcestershire Scientific Services (WSS), which has been carrying out three times the normal number of tests it does, all looking for traces of horsemeat.
Mr Hancock said they have had "some positive tests" for horse DNA in the 300 samples they tested last week, but would not be drawn on the exact number.
"Hopefully over next few days we should get a complete picture of what's going on in the food chain," he said.
Label accuracy assessed
WSS is an official food enforcement control laboratory tucked away on an industrial estate in Worcester.
The Worcestershire County Council-run laboratory has 27 staff, 12 of whom work in food testing.
Mr Hancock said it normally tests foods to ensure that it contains "what it says it does on the label" and to look for contaminants and anything to else do with food standards.
Since the adulterated food scandal began last month, all its work has been testing for traces of horse DNA.
They are currently testing a range of meats from all over the UK, including anything from joints to mince, beefburgers and sausages.
The work is being carried out for both the Food Standards Agency and food producers.
Laboratory staff were testing samples of cottage pie, on Friday.
First they removed any traces of potato and then made a puree of the meat using an industrial blender.
'It's a guide'
This was treated with chemicals to remove the DNA, which was analysed using a test called polymerase chain reaction (PCR).
Mr Hancock said the test can only show the percentage of horse DNA in the sample, which may not be the same as the percentage of horsemeat in the product.
"You may have a tray of minced beef which a spot of horse blood lands in - if you happen to grab that bit then there will be a high concentration of DNA in that sample from the horse blood compared to the beef DNA.
"It's a guide but it's not the same as percentage of meat," he said.
The laboratory will begin testing schools meals from Worcestershire for traces of horse DNA, later.