Judgement reserved over Oxford University student discrimination row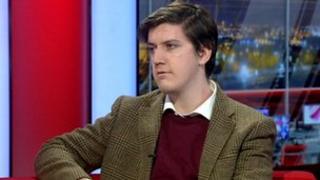 A judge has reserved his decision over whether a student's human rights were breached when an Oxford college turned him down on financial grounds.
Damien Shannon, 26, from Salford had alleged St Hugh's College was discriminating against poorer students.
He said because he had no proof he could cover living costs, an offer from the college was withdrawn.
Judge Armitage QC reserved judgement at Manchester County Court until a future unspecified date.
The college requires proof from potential students that they can cover costs of £12,900 before they are accepted onto courses.
Lawyers representing St Hugh's had asked the judge to dismiss Mr Shannon's request to have the financial restriction removed.
Mr Shannon wanted the court to order the Oxford University college to remove the financial rule, claiming it contravenes the Human Rights Act, and to allow him to take up his postgraduate place in the next academic year.
'Arbitrary figure'
In his claim to the court he stated: "It is my contention that the effect of the financial conditions of entry is to select students on the basis of wealth and to exclude those not in possession of it."
Mr Shannon alleged his place on the year-long economic and social history course was withdrawn due to the "arbitrary figure" the college had set.
He said the sum required by the college was "not obtainable" for most people.
He had calculated he could live off the £9,000 he had access to after taking out a loan to cover his tuition fees.
A spokesman for St Hugh's College said: "The requirement that postgraduate students provide a financial guarantee in order to take up their course place at the University of Oxford is made clear to potential applicants."
The university said a financial guarantee was required before postgraduate students began their studies to ensure their fees and living costs were covered throughout the course.
The amount of £12,900 was calculated from an annual survey of college domestic bursars, who have expert knowledge of the local costs of core items such as accommodation, food, utility bills, books and socialising, the spokesman said.
"We consider this preferable not only for the institution but for the welfare of the individual student, as it prevents dropouts and disruption part way through a course," he said.