Could older people's benefits be next for welfare cuts?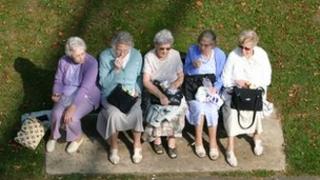 They receive around half of the government's welfare budget but so far older people have largely dodged the austerity bullet.
Unlike working age benefits, their pensions will go up by at least the rate of inflation for the next few years.
While child benefit is now means tested, bus passes, free TV licences and winter fuel payments still go to pensioners regardless of their income.
And that looks likely to remain the case until at least 2015.
Share the pain
But there have been murmurs on all political sides about whether older people should continue to enjoy protected status beyond the next election.
There may well be working age benefit and tax credit claimants who think it is right that older people share more of the pain.
The Institute for Fiscal Studies estimates means testing the help older people get for fuel and their TV licences could save £1.6bn alone.
And some older people are already sacrificing those benefits.
Former Newcastle United owner Sir John Hall is a millionaire, living in the luxurious County Durham hotel he owns.
And yet the 79-year-old is entitled to free prescriptions, a state pension, a £200 winter fuel allowance, a bus pass and a free TV licence.
He acknowledges they are benefits he doesn't need.
He said: "We have paid the £200 fuel allowance each year to the Durham Foundation. They collect it from as many people as are willing and then distribute it to those who need it more than we do.
"I do not have a bus pass, and I think we pay the TV licence. We don't need those benefits. We are comfortable, and there are many people like us."
Ration benefits
Sir John's money then has ended up subsidising a lunch club for older men in Shildon in County Durham.
They're certainly not millionaires, and many believe it's time to ration those benefits to those who really need them.
Vernon Chapman said: "Nowadays this country's got more millionaires in it but they will still be getting all the entitlements when they do not need them."
And Richard Wheatley said: "There should be a guide, a level beyond which the payments are cut-off, say those getting more than £40,000 to £50,000-a-year."
But what about those pensioners who are reasonably comfortable but well short of Sir John Hall's status?
I caught up with some at the Tyneside Cinema's Silver Screen club in Newcastle. Most certainly don't consider they are wealthy. They are reluctant to see their benefits targeted.
John Goss said: "I do not consider myself to be wealthy at all. I do not think expats in their villas in the south of France should get a winter fuel payment. On the other hand why shouldn't I get it?"
Ray Garside agreed: "I think it is very hard to say because we are fairly comfortable we should not be getting these allowances when it's due to our efforts that we are in this position."
But Ray's wife Doreen does think there is some scope for sacrifices to help younger people.
She said: "Our generation has been lucky. They have been able to buy their house, they have seen them go up in value, and paid their mortgages off.
"They have got a working pension and a state pension so I feel that we are quite privileged."
Economic turbulence
But although older people have seen many of their benefits protected they have not been left entirely untouched by recession.
Many private pensions have been badly affected by economic turbulence, annuities have been cut, and savings are earning pitiful amounts of interest.
In addition, studies suggest older people are much more vulnerable to inflation.
The argument for protecting older people has also been based on their inability to change their circumstances.
While those of working age can hope to get a job to get out of the benefit system, it is harder for older people.
And of course many have paid decades of taxes on the basis they could benefit when they retired only to see their savings eaten up by care costs.
But perhaps some may be able to work longer in order to support themselves and generate more taxes.
Paul Hancox, from Wallsend, in Tyneside, would certainly like that opportunity. He may be 66 but he still wants to carry on working as a marine engineer.
So far opportunities have been few and far between.
He said: "Employers are not supposed to discriminate on the grounds of age but you do not know what they are saying at HR.
"They might ask, is he going to have a heart attack when he's working for us, is he going to get ill? You can see the challenge for the employer."
Of course many more of us will be forced to work longer as the pension age begins to rise.
But it does seem increasingly likely that benefits for the current older generation will be scrutinised more closely beyond 2015, especially as more cuts to public spending seem likely.
Given older people currently get £200bn from the public purse, the temptation to eat in to that will be great.
But politicians may still tread a little carefully. There's one thing all older people have in common - they're the most likely to vote in elections.