Kent MPs lobbied to support Thames estuary airport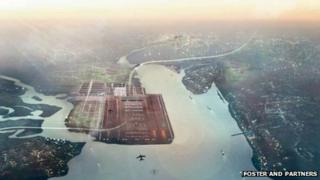 The Mayor of London's aviation adviser has been meeting Kent MPs to try to persuade them to support plans for an airport in the Thames Estuary.
Sittingbourne and Sheppey's Gordon Henderson, Dartford's Gareth Johnson and Gravesham's Adam Holloway, all Tories, have met Daniel Moylan.
"It didn't change my mind. I still feel an airport in the Thames Estuary is the wrong option," said Mr Henderson.
Mr Moylan said he had not put pressure on MPs to back Boris Johnson's plans.
Mr Johnson, who believes a new four-runway hub airport in the Thames Estuary best solution for increasing airport capacity in south east England, gave evidence to the House of Commons transport select committee on Monday.
Expand Gatwick
Several plans have been put forward, including a floating airport designed by architects Gensier, another plan known as "Boris Island", and a proposal for a hub airport on the Isle of Grain designed by Lord Foster.
Other ideas include the expansion of Gatwick, Heathrow or Stansted.
Mr Henderson said Mr Moylan asked to meet him a few weeks ago.
"He put forward some arguments for why I should support an estuary airport and I put forward my rebuttals in a polite but firm way," he said.
"There's no way that anybody can put pressure on me let alone one of Boris Johnson's sidekicks."
Mr Johnson said he had no problem with the Mayor of London lobbying MPs to try to convince them of his plan for a new airport.
"Where I disagree is that this would be a correct option," he said.
"I think it would be wrong both logistically and environmentally.
"We have been looking at this option since 1943 and every time, for practical reasons more than anything, it has always been ruled out."
'Key questions'
Fellow Conservative Mark Reckless, MP for Rochester and Strood, has also had a private meeting with Mr Johnson.
"There are a number of key questions - particularly what on earth they are going to do with Heathrow, how much would it cost, who would pay for it, and where would you move the gas import terminals and power stations? All of which they don't have any answers to," he said.
Mr Moylan said the meetings with Kent's MPs were intended to explain the mayor's ideas and to hear objections.
"I am not trying to persuade people or change their minds. I just want to hear what they have got to say," he said.
"Some people are implacably opposed, some people are more persuadable in the long term but it isn't really an exercise in that."