New police commissioners defy council tax freeze appeal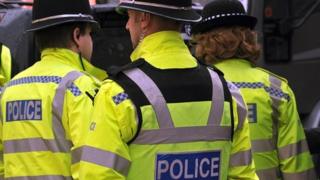 They've been in office for less than three months but the new police and crime commissioners are already having to make a big decision.
Should they look to raise council tax to bring in extra funds, or should they listen to the government and freeze the charge?
There seems to be little agreement amongst the UK's 41 commissioners.
While some will offer freezes, others are putting up the charge by up to 7%.
In all around two-thirds may end up asking the public to pay more.
Causing consternation
There's little pattern politically with commissioners of all parties on different sides.
But in some areas those rises are causing consternation.
Northumbria's Labour commissioner Vera Baird has gone for a 3.5% increase in her force's council tax bill.
But she's been given a rough ride by both political opponents and allies.
Her budget is scrutinised by a Police and Crime panel made up partly of local council leaders.
Many of those have made sacrifices and savings to try and deliver a council tax freeze to their residents.
But now of course all people in the force area will pay more from April because of Vera Baird's decision.
She faced some tough questions when she met them, with some refusing to support the rise.
And Liberal Democrat Newcastle councillor David Faulkner believes the commissioner should have offered a freeze.
He said: "I appreciate the difficulty of anyone having to deal with budget reductions.
"But when the Chief Constable came to the city council a few months ago, she said she'd protect the front line but she didn't say council tax would have to go up to achieve that.
"Bearing in mind there is a government grant available to anyone who freezes the charge, the net figure the commissioner would have had to find for savings is £700,000 out of a budget of £300 million.
"I think that's achievable."
Inflationary rise
The rise will though go ahead, but Vera Baird believes it is the right option.
The 3.5% might sound inflationary but Northumbria's police charge is the lowest in England.
The rise will cost a Band D property owner an extra £2.93 next year - less than 6p per week.
It'll raise £1 million and pay for 50 officers.
Vera Baird says she has cut her own office costs, and so the extra funds will be some compensation for the 20% budget cuts the force has had to implement.
She said: "The Chief Constable has made it very clear that she is almost at breaking point because she has had to make such cuts and she has promised to protect the front-line.
"This is a small amount of money which when collected together will pay for 50 bobbies.
"We have just done a survey and 82% of those who responded said they would pay up to 10p a week more to fund these bobbies so we feel this is comfortably within what people can tolerate."
Public approval
But what might have wound up local council leaders is that if she had been one of them, Vera Baird would have been forced to hold a referendum on the 3.5% rise.
A quirk in the rules though means that forces with a relatively low council tax charge can raise it by up to £5 on a Band D property without asking for public approval.
Neighbouring forces though have had to keep the increase below 2% to avoid a referendum.
Cleveland, Cumbria and Durham's commissioners have all gone for 2% or less.
But because their tax charges are historically higher than Northumbria's, their cash demands will actually go up by more.
In Durham, a Band D householder will pay an extra £3.07.
In Cumbria, the extra bill adds £3.87 a year, and in Cleveland, it's £3.89.
All of the commissioners say the rise will help keep more officers on the beat.
Morally obliged
But the decision is unlikely to go down well with the government.
Communities secretary Eric Pickles says councils and commissioners are morally obliged to deliver a freeze and he says grants are on offer to any who hold the charge at 2012 levels.
But that grant is only equivalent to about a 1% council tax rise and only lasts a year, so many forces will recoup more money by refusing the government aid and charging local taxpayers extra.
Even those asking for more money are unlikely to be able to increase the number of officers.
The cuts in government funding still in the pipeline far outstrip any extra revenue from council tax receipts.
But the coalition can draw comfort from the fact that crime is still falling despite those cuts.
And it seems likely that next year the government will get even tougher with councils and commissioners who ask for more tax.
This then may be the last hurrah for those looking to extract more money from council taxpayers.