RSPB calls for ban on seabird pollutant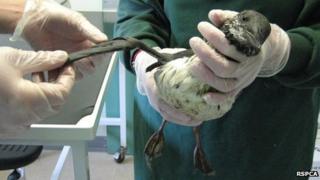 The RSPB has called for ships at sea to be banned from discharging an oil additive which contaminated hundreds of birds on the south coast of England.
The Maritime and Coastguard Agency (MCA) said polyisobutene (PIB) can be released under certain conditions.
The RSPB wants the International Maritime Organisation (IMO) to reclassify PIB and outlaw discharges.
The substance went unidentified for days until scientists at Plymouth University discovered what it was.
Peter Exley of the RSPB, said: "PIB is classified as a very low-hazard substance but we are clearly seeing not only in this instance, but three previous instances covering 4-5,000 birds, it is clearly not low hazard.
"We are calling on the regulations to be changed and this to made something that can't be put out into the marine environment."
Birds washed up
Birds started to be washed ashore in Dorset on 31 January when 100 were rescued and 15 were confirmed dead.
The following day a further 200 birds were washed up on beaches from Portland to Cornwall and more than 100 were rescued.
Stan Woznicki, the MCA's counter-pollution officer, said: "PIB is on certain occasions allowed to be discharged into the sea.
"Under maritime pollution regulations they can take some of the residue from the bulk carrying tanks and under stringent conditions it can be released into the ocean, predominantly outside 12 miles from the nearest point of land of land and in very, very small concentrations."
He added that a legal discharge "would be highly unlikely to result in the sort of contamination we have seen".
The MCA is investigating the source of the pollution but Mr Woznicki admitted: "We don't have enough information localise the problem."
The IMO was unavailable for comment.