Appeal to buy Lewis-Gibson Genizah Collection
8 February 2013

From the section

England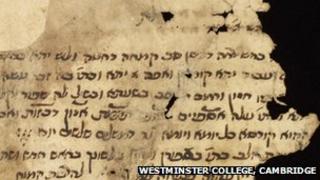 A fundraising appeal to buy a collection of Hebrew and Arabic manuscripts has been started by Oxford and Cambridge Universities.
The Lewis-Gibson Genizah Collection, worth £1.2m, comprises 1,700 document fragments which were saved in Cairo's Ben Ezra Synagogue.
They were brought to England in 1896 and deposited at Westminster College.
It is the first time the two libraries have collaborated for such a fundraising effort.
Twin sisters Agnes Smith Lewis and Margaret Dunlop Gibson brought the collection home from their travels in Egypt at the end of the 19th Century.
The University of Oxford's Bodleian Libraries and Cambridge University Library are hoping to buy the collection, currently owned by the United Reformed Church's Westminster College.
Principal Reverend Dr Susan Durber said the theological college was selling the documents as it did not have the resources to conserve and research them or to make them more widely available.
Cambridge University librarian Anne Jarvis said: "We are seeking to build on our collections while recognising that there would be a greater benefit to scholarship if we joined together to save the Lewis-Gibson Collection from division and dispersal."
A university spokesman said the libraries would be approaching charitable trusts and were hoping for donations from the public to raise the funds needed to buy the collection.
Historian Professor David Abulafia said: "There is nothing to compare with them as source for the history of the tenth to twelfth centuries, anywhere in Europe or the Islamic world."
"They shed a bright light on the social, economic and religious life of the Jews not just of medieval Egypt but of lands far away," he added.