A14 upgrade: Meeting discusses "innovative" funding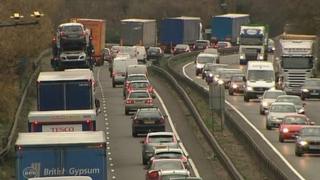 Councils and businesses affected by the A14 upgrade have discussed "innovative" ways of helping to fund the project.
A tolled bypass and the widening of parts of the road were amongst work announced last year.
Cambridgeshire County Council leader Nick Clarke said local councils and businesses had to help the government fund the project.
"This is a key road that needs upgrading, what we have to do is find the funding to do it," he said.
Andre Gonzalez de Savage, cabinet member for infrastructure at Northamptonshire County Council said the campaign to improve the A14 road was a fiscal challenge for local authorities.
"No-one had a cheque book so we had to look for innovative ways to get funding.
"We need to convince government by flagging up a joined up plan and a programme to get this done quickly not over a six-year period.
"People will lose interest if the time scale is too long."
Importance of money
He said part of the problem with the road between Huntingdon and Cambridge was the number of junctions which mixed local traffic with heavy goods vehicles.
The A14 links the country's largest container port in Felixstowe, Suffolk, with the M1 and M6 motorways via Cambridgeshire and Northamptonshire.
A Labour-backed £1.1bn plan to widen the road between Cambridge and Huntingdon was dropped by the coalition government for being too expensive.
Mr Clarke said the government would "fund most of the project" but the meeting on Thursday sought to get agreement from the authorities who will benefit from the upgrade to "make contributions towards funding".
"This is the first step in bringing together the local authorities and enterprise zones that will benefit economically from the upgrade of the A14," he said.
A planned tolled bypass between Cambridge and Huntingdon is expected to cost £1.5bn. A further £8m has been allocated to widen the road between Histon and Girton in Cambridgeshire.
Attracting business
Mr Clarke said that he did not like toll roads, but they were preferable to leaving the A14 "in the state that it is at the moment".
"It's costing HGV drivers a lot of fuel stuck in traffic jams," he said.
"The number of accidents are holding them up and the complete unreliability of using that road is not good for business."
Guy McGregor, cabinet member for transport, highways and strategic planning at Suffolk County Council, said the improvements would benefit people from further afield.
Hertfordshire and Norfolk have roads that feed into the A14 and they too are interested in its improvement, he said.
"Investment would be attracted to the areas alongside the improved road. This would bring jobs, industry and development.
"This would generate income and would contribute to paying the cost of the road over time.
"Making this case to the Treasury would help justify the road which would certainly benefit the economy in Suffolk and Essex."