Where BBC Inside Out gets its stories from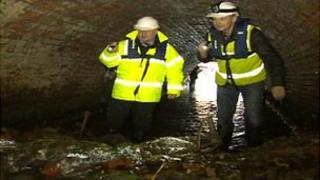 After more than 10 years on air I'm delighted to say that when we're out filming people do come up and ask what's going to be on next week's show.
The best compliment I get is people saying: "I've lived here all my life and I never knew that!"
I think it's down to the unique mix of investigative current affairs and original tales of individuals and places that surprise and delight.
But where, I am often asked, do we find these stories?
Naturally I'd have to sing the praises of our team of journalists, but the reality is that it is the viewers themselves who also play a huge role in what appears on screen.
Your stories
After each show I often get a reaction to the films we've made, and sometimes it leads to a follow up.
That was certainly the case when we highlighted concerns with the now collapsed Southern Cross care homes.
Each week I also get correspondence from people suggesting topics for us to examine.
It seems people naturally think of Inside Out if they have a burning issue which they feel needs wider exposure.
If that's you and you want to get in touch it couldn't be easier, just email me: chrisjackson@bbc.co.uk
Next time you tune in and wonder how we found out about a particular story, it might just have been someone down your street!