Yorkshire MP withdraws his benefits cash card bill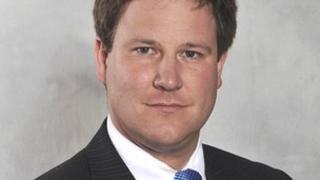 Alec Shelbrooke was labelled by some as the ultimate Scrooge just before Christmas when he asked MPs to back his idea of making benefits payments through an electronic cash card which would not be valid for buying luxuries such as alcohol, tobacco or satellite TV subscriptions.
The Yorkshire MP's proposals provoked tens of thousands of people to post comments on the Facebook and Twitter sites of Look North, his local BBC regional TV news programme. It was by far the most feedback on any single issue in the programme's history.
Now the Tory MP, who represents the seat of Elmet and Rothwell near Leeds, has decided to withdraw the bill he introduced in the House of Commons at the time, but this is far from the last we have heard from him on the matter.
'Desirable but damaging'
Mr Shelbrooke told me he has widespread support from ordinary people and has been unfairly portrayed as a right-wing Tory who believes idle scroungers should be stopped from living a life of unearned luxury.
His view is that benefit claimants will be far better off if they are unable to buy what he calls "NEDD items"- things that were, in his words, "non-essential, desirable but often damaging".
He also feels that there has been a lot of deliberate misinterpretation of his proposals particularly by benefits campaign groups and Labour politicians.
"I made it clear this would apply to all claimants in work and out of work, and would cover all benefits other than disability payments and the basic state pension," he told me.
"Yet time and again I have seen criticism based on how this will degrade the lifestyles of groups that I specifically exclude from my proposal."
Technical withdrawal
This week his bill was due to be debated again by MPs but when I rang him for a progress report he told me it had been withdrawn for technical reasons.
Bills proposed by backbench MPs rarely have a chance of becoming law unless taken up by government or opposition and allocated time for full debate and votes by MPs.
Without that backing, Mr Shelbrooke says he had no alternative but to pull the plug on his bill but believes there is so much support for it from "the man in the street" that he will relaunch his campaign in the spring.
And the idea is not without powerful political admirers.
The Pensions and Benefits Secretary Iain Duncan-Smith revealed that his department has been looking at the possibility of issuing a card rather than cash for benefits, but only to what he called "problem families" who are having difficulty managing their finances.