Elderly Surrey woman without care after firm raided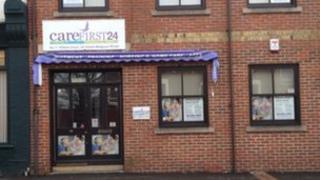 A pensioner was left at home without medication, food, or water for nine days after a UK Border Agency (UKBA) raid on the agency which provided care.
Gloria Foster, who is in her 80s, was taken into hospital after being found at her home in Banstead, Surrey.
It followed a raid on the offices of Carefirst24 in Sutton, south London by UKBA and the Metropolitan Police and the arrests of six people.
Surrey County Council said its client's case was being investigated urgently.
Conspiracy to defraud
Conservative MP for Reigate, Crispin Blunt, said the woman's ordeal was horrific.
Carefirst24 provided care to elderly people across Surrey and the London Borough of Sutton on behalf of the local authorities.
The UK Border Agency raided the company's HQ in Upper Mulgrave Road, Sutton on 15 January as part of an investigation into suspected assistance of illegal workers and fraud.
Four people were arrested on suspicion of conspiracy to defraud and conspiracy to assist foreign nationals.
A Filipino man and woman were arrested on suspicion of the same offences on 14 January at a separate address in south London.
All those arrested were bailed until dates in April.
'Organised carefully'
A Surrey County Council spokeswoman said she was unable to comment on the details of the woman's case because an investigation was under way.
"We're saddened to hear about this and our thoughts are with Mrs Foster, her family and friends at the moment," the council said in a statement.
"The safety of vulnerable adults is our top priority. We take any concerns raised very seriously and this is being urgently looked at by the Surrey Safeguarding Adults Board."
Sutton Council said it organised carefully to change the care for its clients to another provider on the day of the UKBA action.
"We liaised with the police and the UK Border Agency and ensured that there was no interruption in meeting our clients' needs," it said in a statement.
'Horrific ordeal'
Mr Blunt said he sent his best wishes for the woman's recovery.
"This poor woman's ordeal is horrific," he said in a statement.
"Clearly, there are questions to answer, and I would expect a comprehensive investigation, between all of the agencies involved.
"The existing facts of this case are awful, so I would certainly not like to pre-judge any more of the narrative before it is formally established."
Telephones at Carefirst24's offices are not being answered and no reply has been received to enquiries by email.