Michael Brewer: Wife denies helping him to rape girl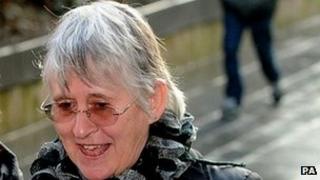 The ex-wife of a music school director has told a jury she did not encourage her husband to rape a former pupil.
At Manchester Crown Court, Hilary Kay Brewer, 68, denied sexually assaulting the teenager more than 30 years ago.
Mrs Brewer also denies aiding and abetted the alleged rape by her ex-husband Michael, also 68.
He is accused of committing indecent assaults against the same girl in the 1970s and 1980s at the Chetham's School of Music, Manchester.
Father-of-four Mr Brewer, of Swarthmore Road, Selly Oak, Birmingham, denies rape and eight counts of indecent assault.
Mrs Brewer, of Knowl Gap Avenue, Rossendale, Lancashire, denies one count of indecent assault and aiding and abetting rape.
'Felt owed'
She told the court she never had any sexual contact with the alleged rape victim who was said to be 18 at the time.
Prosecutors have said Mrs Brewer was aware of her husband's relationship with the girl and had told her that she had wanted a sexual relationship with a woman and that she felt "owed".
She was asked by Bernadette Baxter, defending: "Did anything like that happen?" "No," she replied.
"Was there any kind of sexual conversation or sexual contact between you and [the alleged victim] on that night?" continued Miss Baxter. "No," Mrs Brewer said.
Cross-examined by Peter Cadwallader, prosecuting, she was asked: "Even though you regret it now, in your 30s you sexually assaulted [the alleged victim]. Is that not correct?"
"No I did not," Mrs Brewer replied.
"And you aided and abetted Mr Brewer to rape her," Mr Cadwallader said.
'Sexually excited'
"No," she said.
Mr Cadwallader continued: "And you were very sexually excited about the incident?"
She responded: "Absolutely not."
Mrs Brewer is a keen churchgoer and had acted as church warden at her former parish of St Clement's in Chorlton and her current parish at St Thomas's CE Church in Helmshore, Lancashire.
She had also sat on the Manchester Diocesan Board of Education and was a member of the youth and children's committee.
She was divorced from her husband in April 1998.
Mr Brewer, who was honoured by the Queen for services to music, was forced to resign from Chetham's after an inappropriate relationship with a 17-year-old girl came to light, the court heard.
Mr Brewer went on to become the artistic director of the National Youth Choirs of Britain and also directed the World Youth Choir after he resigned from Chetham's.
The trial continues.