Base improvements 'too late' for soldiers, inquest told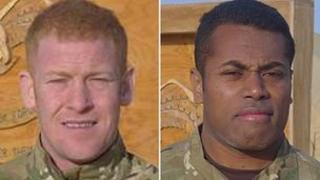 An inquest into the deaths of two British soldiers in Afghanistan has heard that safety improvements to their operating base came too late.
Cpl Andrew Roberts from Middlesbrough, and Fiji-born Pte Ratu Silibaravi were killed in a mortar attack on their base in Helmand province in May 2012.
Colleagues told the inquest at Oxford Coroner's Court that fortifications around it were insufficient.
Verdicts of unlawful killing on active service were recorded.
The soldiers, both 32, were from the Royal Logistic Corps, attached to 1st Battalion The Royal Welsh Battlegroup.
They were deployed as part of an advanced search team in the operations squadron of the Explosive Ordnance Disposal and Search Task Forces, based in Bicester, Oxfordshire..
The joint inquest was told that the pair suffered horrific injuries when a mortar smashed into their operating base in the northern part of the Nahr-e Saraj district.
'Higher walls'
L/cpl Neil Mackie said "The protection near the tented accommodation was unsatisfactory.
"The nearest hard cover was a fair distance away."
Returning to the base months' later he found that there was more barrier protection and higher walls.
He said: "I can honestly say the developments that took place between that incident and seven months later were astounding - it should have happened earlier.
"If the same incident happened again in the same location the difference would be unquantifiable."
Lieutenant Leigh Rickards also said protection should have been better at the time.
"It is unfortunate it's taken an event like this for it to change", he said.
Following the coroner's verdict, Stephen Roberts said his son "loved life and loved his job".
He added: "The Army needs to get its act together and look after the lads better."