Bookmaker gunman: Alan Levers' family say 'no revenge'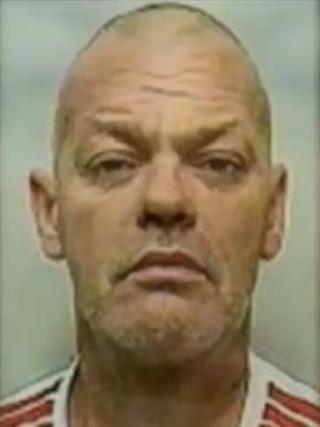 The family of a gunman who died after being restrained by four customers in an attempted robbery have said "there will be no revenge" over his death.
Alan Levers, 50, entered Ladbrokes in Crownhill Road, Plymouth on Friday, wearing a gas mask and holding a suspected imitation pistol.
Police found him unconscious and he died minutes later.
Nephew Peter Levers said his uncle had been trying to conquer drugs and added: "We don't hold anybody responsible".
Mr Levers, who also lives in the city, said: "He was a career criminal, but things were going all right for him for once.
"He was staying off the drugs, he had the whole family behind him.
"The last time I saw him was Thursday evening. He went out fishing and he came back with a big smile on his face."
Mr Levers said that his uncle had four teenage children in Plymouth and his partner also lived in the city.
Alan Levers, from the Honicknowle area of Plymouth, was pinned down by the four customers before police arrived at the bookmakers.
No charges have been made and Ch Supt Andy Bickley described the customers as "extremely brave".
In a statement he said: "His [Levers'] family are being supported by police and our thoughts and condolences are with his family at this sad and difficult time."
He added: "The firearm has been initially examined by a police firearms officer and it appears to be an imitation pistol, though this still needs to be verified.
"I would like to add however that there would have been no way of knowing this at the time of the incident. "
A spokesman for Ladbrokes said the company was assisting police.
The case has also been voluntarily referred to the Independent Police Complaints Commission (IPCC) by Devon and Cornwall Police.