Naked rambler Stephen Gough in court without clothes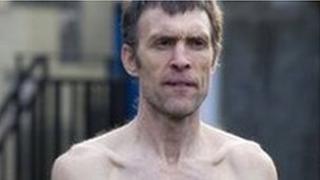 Stephen Gough, known as the naked rambler, has stood in court before a judge with no clothes on to hear a charge of outraging public decency.
The 53-year-old appeared at Oxford Crown Court earlier following his arrest in Carterton, Oxfordshire, on 4 December.
The defence for Mr Gough, from Eastleigh, Hampshire, has applied to have the case dismissed.
Mr Gough was remanded in custody and will reappear in court on Tuesday.
Flanked by two court security guards, a bearded Mr Gough stood in the dock during the hour-long hearing.
Before Christmas, Mr Gough had his application for bail refused when he told the court of his wish to stand trial naked.
Mr Gough's lawyers have cited a previous case of a man being allowed to stand trial naked.
In 2001, activist Vincent Bethell was granted permission to have no clothes on during his trial at Southwark Crown Court for allegedly causing a public nuisance. He was later acquitted by a jury.