Breakfast station TV-am's early 'turmoil' recalled
1 February 2013

From the section

England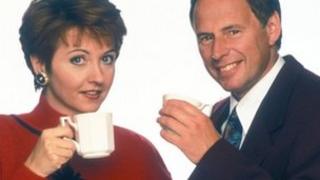 Thirty years on since its stormy debut, presenter Nick Owen remembers the "absolute turmoil" in the early days at ITV breakfast station TV-am.
Its eventful history included a strike, presenter sackings, boardroom changes and commercial losses.
But after recovering to make annual profits of about £25m, it was forced off air less than a decade after hitting Britain's screens.
Some of the biggest names in television launched ITV's first national breakfast service on 1 February 1983, but it was beaten to air by its BBC rival by two weeks.
And Owen said it was reckoned only about 200,000 people were watching TV-am in a quarter-of-an-hour period at one point.
Proudest achievement
The current BBC Midlands Today presenter added: "This station which was losing allegedly about £500,000 a week was in absolute turmoil.
"There was definitely an atmosphere of almost fear that the place was going to close at any time. There were mass meetings loads of times.
"You never knew who was going to be sacked the next day.
"One weatherman came back from a holiday, went through his answer machine messages and he'd been sacked on one of them.
"In the early days of being the main presenter… sometimes to avoid all the [media] attention I would leave in the back of a van covered in a blanket."
It was Owen's big break, months after joining from regional TV.
Just eight weeks after the launch, Owen - the sports reader on day one - stepped into Sir David Frost's shoes as the main male host on the sofa.
He now says that, in 35 years as a TV presenter, being part of the start of British breakfast television was his proudest achievement.
And he even believes puppet Roland Rat played a "big part" in saving the station, as the rodent character attracted large audiences during the school holidays and was a boon for advertisers.
'Perfect world'
Owen explained: "The toy company called Hasbro which...made the replica dolls of Roland Rat … agreed to pay for say three months' advertising up front and that up front money kept us going."
The show was broadcast from studios decorated with large plastic egg cups on the roof. There were news and current affairs heavyweights among the original line-up including Sir David, Sir Michael Parkinson, Angela Rippon, Anna Ford and Robert Kee.
But Rippon and Ford were later sacked.
Owen added: "The management said 'in a perfect world, who would you like to present with?'
"I said 'Anne Diamond' and they said 'who's Anne Diamond?'"
Despite Diamond's lack of profile among management, the former Central regional co-presenters became a famous national double act on TV-am under future BBC director general Greg Dyke.
He developed a more populist Good Morning Britain including aerobics with Mad Lizzie [Lizzie Webb].
Regular contributors were also brought in, including actress Diana Dors for a slimming spot, and ex-footballer Jimmy Greaves for TV reviews.
The station's line-up also included ITV Daybreak host Lorraine Kelly, weather presenters Wincey Willis and Ulrika Jonsson and long-serving main presenter Mike Morris.
By the end of 1983 TV-am had overtaken the BBC's Breakfast Time in audience share.
Those quarter hours - the measure of viewing figures at the time - were peaking at a million people, which meant over a morning a few million were tuning in.
'No tears'
But it was not all plain-sailing from there.
The Independent Broadcasting Authority told TV-am to put in more news resources, after one of the decade's biggest stories - the IRA bombing of the Conservative Party conference - was covered poorly.
The programme's coverage from Brighton included John Stapleton reporting on the phone, while the BBC produced moving pictures on the other channel.
Later, members of the ACTT union staged a 24-hour walkout over staffing levels in November 1987 and were sacked by managing director Bruce Gyngell three months later.
Staff from executives to secretaries worked to keep the station on air.
But TV-am's final broadcast came in 1992. The station lost its franchise after Sunrise, which became GMTV, put forward a higher bid.
Despite the early turmoil, Owen said he felt "very proud" to have been part of "pioneering stuff" at TV-am, after moving from the Midlands.
"It could have been a big mistake, but ultimately it turned out to be the best thing I ever did."