Tony Nicklinson's ashes to be scattered at Kent memorial game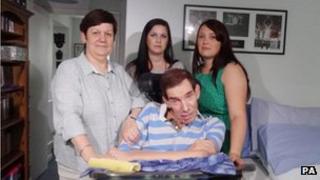 The ashes of Tony Nicklinson, who suffered from locked-in syndrome after a stroke, are to be scattered at a rugby ground where he used to play.
Tony Nicklinson, 58, died at his home in Melksham, Wiltshire, in August, a week after he failed in his bid to end his life with a doctor's help.
He was paralysed by a stroke in 2005, but as a young man played for Cranbrook Rugby Club in Kent.
A memorial match is to played in his honour when the ashes are scattered.
Rugby club spokesman Gezz Higgins said it was Mr Nicklinson's wish that his ashes be scattered on the pitch at Cranbrook.
"I have been talking to his wife Jane this week and that is his request, so that would fit in nicely with a memorial match," he said.
Mrs Nicklinson said she would be attending the memorial match with the couple's two daughters and probably her husband's sister.
'Very good player'
Mr Higgins said he used to play rugby with Mr Nicklinson, who was a pupil at Cranbrook School.
"He played for Cranbrook and the Mad Dogs Rugby Club, which is an invitation side which I am chairman of, so it was an ideal time to have those two teams play each other in his memory.
"He was a very good player - he was second row where you need the big guys, and sometimes number eight."
But Mr Higgins said Mr Nicklinson also enjoyed the social life of the rugby team.
"My over-riding memory is of him leaning on the bar talking to me at the rugby clubs we went to.
"He was such a sociable fellow - he was a great guy, the sort of fellow that when he walks into the room it lights up."
Mr Higgins said that to his friends in Kent, Mr Nicklinson was known as Royals - a nickname given to him because his father was in the Royal Marines.
No date has yet been set for the match, but it is expected to be in April.