South West Water customers asked how cash should be spent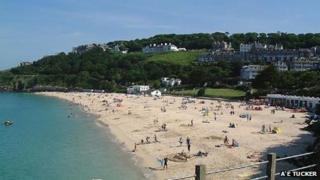 Hard-pressed South West Water (SWW) customers are being asked to help decide where their money should be spent in years to come.
SWW has invested heavily since privatisation in 1989 and to pay for that investment, bills have risen steadily - partly because its customers pay to maintain 30% of England's coastline even though they only make up 3% of the population.
In Devon and Cornwall, plus parts of Dorset and Somerset, SWW bills are about £150 more than the national average - at about £540.
But although SWW completed its £2bn Operation Clean Sweep programme in 2010 to improve beach water quality and revamp the region's sewer system, SWW says it is not realistic to sit back and avoid further investment.
But rather surprisingly, there's been an apparent outbreak of satisfaction in the world of South West Water consumers, who for so long have complained about the burden of high bills.
With the water company beginning to consult people on what prices might do over the next five year period, the views of the main water consumers' champion here are strikingly mellow.
'We've paid already'
"We're in a good place down here in Devon and Cornwall," says Charles Howeson, chairman of the regional Consumer Council for Water.
"If you're in Folkestone, you're in a bad place. Planning and investment in the water industry here over the past 20 years has meant they've planned ahead till about 2031.
"So we aren't looking at hose pipe bans and (other) issues down here.... we've paid already."
He's referring to the fact that the huge post-privatisation task of improving the region's sewerage systems is basically complete and on the supply side, we are blessed with good reservoirs that are fortunately full.
Because of this, average bills are forecast by the company to increase by no more than 0.5% above inflation between 2015 and 2040.
Big deal, you might reply, knowing that we already find ourselves in a position where we have the highest water bills in the country, and in a low-wage region.
It's been a cause of repeatedly-voiced outrage. So, why the mellowness now?
'No king's ransom'
Well, something unusual that's happening from this April seems to have drawn the sting. Households in South West Water's patch are each getting an annual discount of £50.
Not a king's ransom, but it stops us feeling most of the pain of Clean Sweep. Why? Because £50 a year is roughly what we'd have been stumping up otherwise so that SWW could keep paying the interest on the loans they took out to do the work.
Yes, we still do have high water bills, but they're now effectively no higher than those of any other rural, hilly, sparsely-populated region.
You might ask, 'Why can't the water company just go into tick-over mode now and let us have bills that don't go up any more?".
The answer is that they are expecting to be made to jump through new hoops by Europe.
And some things are not right now - as anyone who has experienced the misery of sewer flooding will testify to.
So SWW is asking its customers for their views about what the priorities should be in future.