East Sussex grave of Victoria Cross recipient restored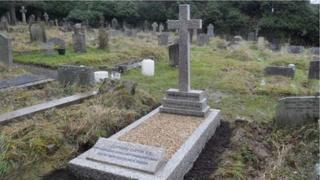 The neglected grave of a World War I hero who is buried in East Sussex has been restored by a charity.
Maj Gen Clifford Coffin was awarded the Victoria Cross for heroism while fighting in Belgium.
He was buried at Holy Trinity Church, in Colemans Hatch, but as there are no living family members the grave fell into disrepair.
The Victoria Cross Trust renovated the grave and soldiers from the Territorial Army will refurbish the cemetery.
Maj Gen Coffin was awarded a Victoria Cross for his actions in 1917 while inspecting frontline positions in Westhoek while under heavy machine gun fire.
According to the citation, "he showed an utter disregard of personal danger, walking quietly from shell-hole to shell-hole giving advice and cheering his men by his presence".
He died in 1959 and was buried at the church.
'High ranking'
Gary Stapleton, from the Victoria Cross Trust, said: "This man was the commanding officer of the Royal Engineers, he was an extremely high ranking person."
Mr Stapleton said the trust had arranged for the grave to be cleared and levelled and a new base put in.
The cross and plinths were removed for cleaning and restoration.
"The grave is part of the local community, part of its heritage," he said.
"We don't think you have to be religious to go along and pay respects."
Mr Stapleton added that soldiers from the TA will help the church clear and refurbish the entire cemetery, with work expected to begin in early 2013.