Drivers warned over heavy rain across the North East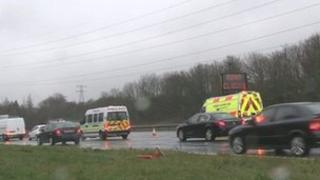 Motorists across the north east of England have been advised to take care as heavy rain continues to make driving conditions difficult.
Police said many roads remain affected by standing water, and there was some localised flooding.
Sections of the A19 on Wearside and Tyneside which had been closed have now reopened.
In County Durham, the A688 near Bishop Auckland, the A6072 in Shildon and the A177 in Sedgefield remain closed.
A number of flood alerts are in place - including for the River Wear at Chester-le-Street and the River Coquet in Northumberland.