London homes 'most' threatened with eviction and repossession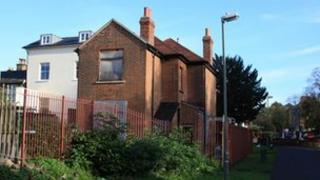 The number of households in England threatened with eviction or repossession equates to a city the size of Liverpool or Bristol, a charity has warned.
Shelter said nearly 200,000 households were threatened with the prospect of losing their home over the past year.
The 15 worst places, where one in every 62 homes was at risk - double the national average - were all in London.
Shelter said most claims came from landlords seeking to evict tenants.
The findings come from Ministry of Justice figures on mortgage and landlord possession claims.
'High unemployment'
Shelter said that between October 2011 and September 2012, 198,470 households in England, or one in every 115, were under threat.
The charity said that areas with higher possession claims tended to have high levels of unemployment.
Barking and Dagenham in east London was the area where people were most likely to face losing their home, the charity said.
At one in every 37 homes, it had more than three times as many possession claims than the rest of the country.
Outside London, Wolverhampton had the highest threat of eviction and repossession, with one in 65 households in danger.
Slough and Manchester followed closely behind, with one in 66 families under threat.
'Temporary accommodation'
A Shelter spokeswoman said redundancy, relationship breakdowns and having work hours cut were main causes of the phenomenon.
"For people who have really stretched themselves to get a mortgage, having their hours reduced by 10 to 15 hours a week means they can't make ends meet," she said.
Campbell Robb, chief executive of Shelter, said the number of people threatened with homelessness was "truly shocking".
"In some areas, the risk of being evicted or repossessed is so high that one home in every street could be affected," he said.
"This report is a stark reminder that homelessness can happen to anyone - all it takes is one event such as a redundancy or relationship break up, and whole families are at risk of losing their home.
"This year more than 75,000 children will be homeless and living in temporary accommodation on Christmas Day."
The report was released on the same day that the Royal Institution of Chartered Surveyors predicted that the cost of renting a home will rise by 4% in 2013, double the predicted rate of UK house price growth.
Despite the continued pressure on people's budgets, figures for the third quarter of this year from the Council of Mortgage Lenders (CML) showed that home repossessions have fallen to their lowest level since 2007.
The CML put the fall down to good communication and arrears management by borrowers and lenders.