Greater Anglia sued in Stansted Express tickets dispute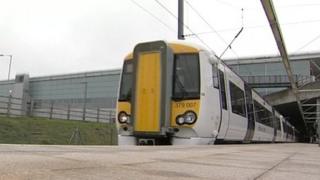 A company is suing train operator Greater Anglia for £250,000 in a dispute over Stansted Express tickets.
The ticket agency claims Greater Anglia cut off its supply of tickets, putting up to 60 people out of work.
Ticket Generator, based in Bury St Edmunds, Suffolk, had contracts to sell Stansted Express tickets at 15 airports in the UK, Ireland and Germany.
Greater Anglia said it would contest the claim and that it had never had any sales agreement with Ticket Generator.
The claim against Greater Anglia has been issued at Northampton County Court.
Ticket Generator was licensed to sell tickets for Stansted Express from desks at the departure gates of airports, including Dublin, Edinburgh and Berlin Schonefeld.
This enabled passengers to buy tickets in advance for the direct service, which links Stansted Airport in Essex with central London.
'Refused to supply'
Ticket Generator said it was selling about 1,000 Stansted Express tickets a week at one point.
The business also sold tickets for other train services, including the Gatwick Express and Heathrow Express, but has now collapsed.
Ticket Generator said it had previously been supplied with Stansted Express tickets by National Express East Anglia when it ran the service until February 2012.
But it claimed new operator Greater Anglia, owned by Dutch company Abellio, refused to supply tickets after taking over the franchise.
Ticket Generator said that in order to fulfil its contracts with airports, it was forced to buy its tickets through a third party, Groundline UK.
But in September, Greater Anglia wrote to Groundline UK, forbidding it from selling tickets to Ticket Generator or any other re-seller at airports used by Ryanair for Stansted flights.
The airline sells discounted Stansted Express tickets on both its flights and its website.
Fred Gross, director of Ticket Generator, said Greater Anglia's actions had put between 50 and 60 of the company's self-employed ticket agents out of work.
"These people have families and mortgages. It's left a lot of people in dire straits. We've had them on the phone, crying," he said.
'No sales agreement'
"They were trained to help passengers from the time they landed to the time they reached their final destination. They offered a very high level of customer service, and that's been lost."
Ticket Generator still exists as a legal entity but is no longer trading.
"This has devastated our business. Now we're in breach of many contracts with many airports who are still sending us bills for ground rentals," said Mr Gross.
A Greater Anglia spokesman said: "Greater Anglia is contesting the claim as there is no material evidence to support Ticket Generator's (TG) claim.
"Greater Anglia has never had a sales agent agreement with TG Limited. Greater Anglia has every right to decide who it should appoint as a sales agent according to its commercial and customer service criteria."
No date has yet been set for a court hearing.